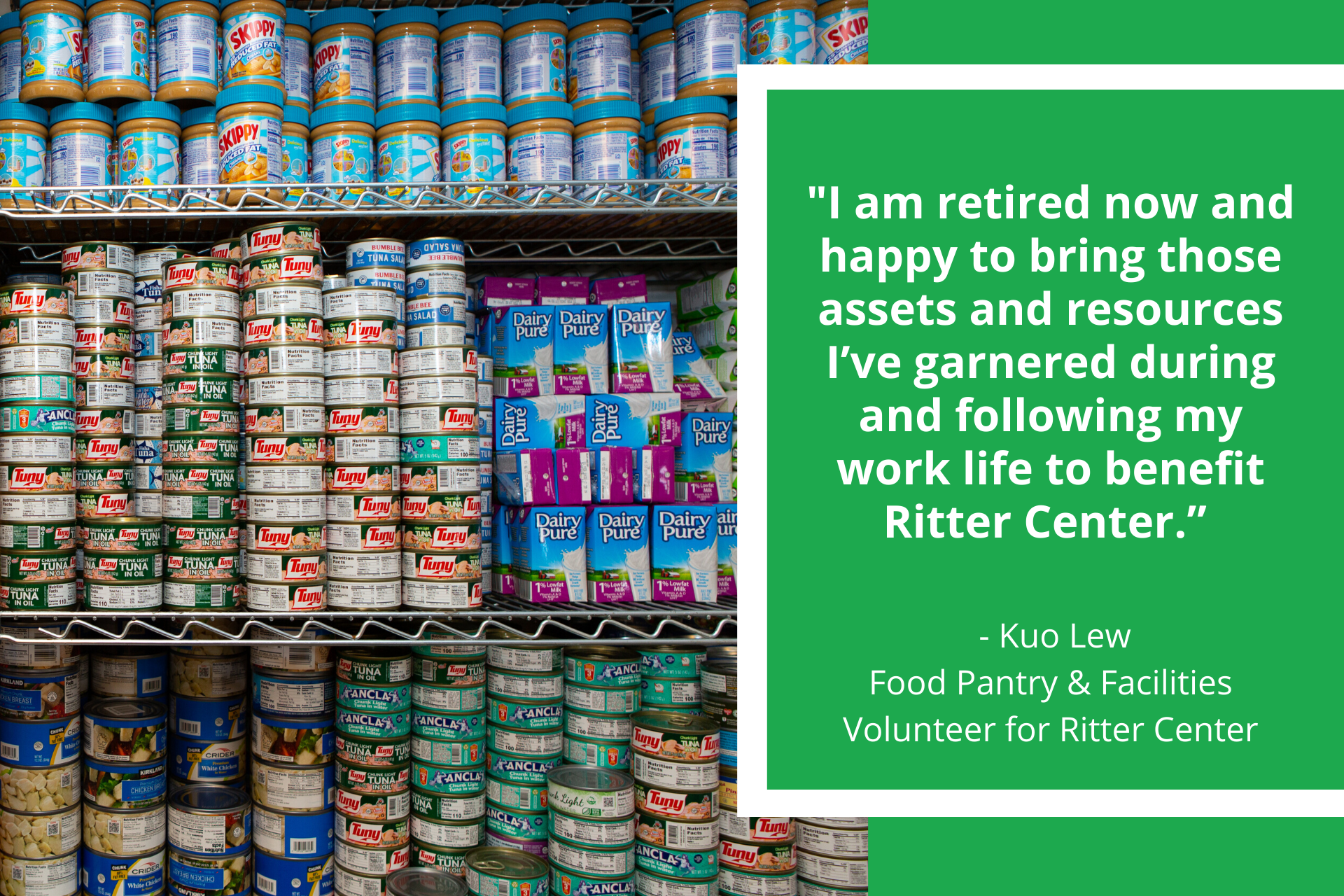 Photo: Photo Credit: Margot Duane Photography
Volunteer, Kuo Lew, brings life and work skills to help those in need at Ritter Center.
Volunteering is empathy in action. April is Volunteer Appreciation Month so we took the time to celebrate our beloved volunteers at Ritter Center. Volunteer Kuo Lew is just one of the many volunteers we rely upon at Ritter Center to support the community.
In fact, it's our community supporting community which makes Ritter Center so special. The connection between volunteerism and empathy is at the core of community.
The impact volunteers make is something special to appreciate, and today we shine the light on our volunteer Kuo Lew. His actions contribute to create a stronger, more connected community.
"I enjoy volunteering at Ritter Center because it allows me to bring my skills from years past to support Client Services and Facilities Manager Jorge Garcia who is an excellent manager," shared Kuo Lew. "He's very capable, and appreciates volunteers lending a hand because Ritter Center, like most nonprofits, can be understaffed and relies upon a limited budget. Jorge has demonstrated an ability to connect with his staff, his clients and volunteers towards Ritter's mission of service. I appreciate Jorge's service to the community and the opportunity to support him and the Ritter Center for the past two years."
Kuo's tasks involve breaking down the pallets of food and supplies, and assisting in the setup for the gathering and distribution of these supplies to Ritter's clients. Kuo also works to secure food and other supplies to bring added materials from other organizations. Kuo and Ritter Center are grateful to the generosity of the Safeway in Corte Madera, Panera Bread in Novato, and Noah's Bagels in Greenbrae for their contributions to share with Ritter Center and their clients. He also accepts the task of redistributing excess items to other organizations to fill the needs of the community and to prevent spoilage and waste.
Kuo's volunteering also includes doing whatever is needed at that moment in time.
"When there was flooding last year, I helped to put the new furniture together. This meant Ritter Center didn't have to tap further into their budget to hire someone to do it. I see the other volunteers putting in so much effort, and I appreciate their spirit of trying to help, too. Jorge provides the venue where volunteers can learn while giving back, and I am happy to help support his work. I am retired now and happy to bring those assets and resources I've garnered during and following my work life to benefit Ritter Center," said Kuo.
Thank you for your wonderful dedication and support Kuo – we are so grateful for your help in our Food Pantry and around Ritter Center.