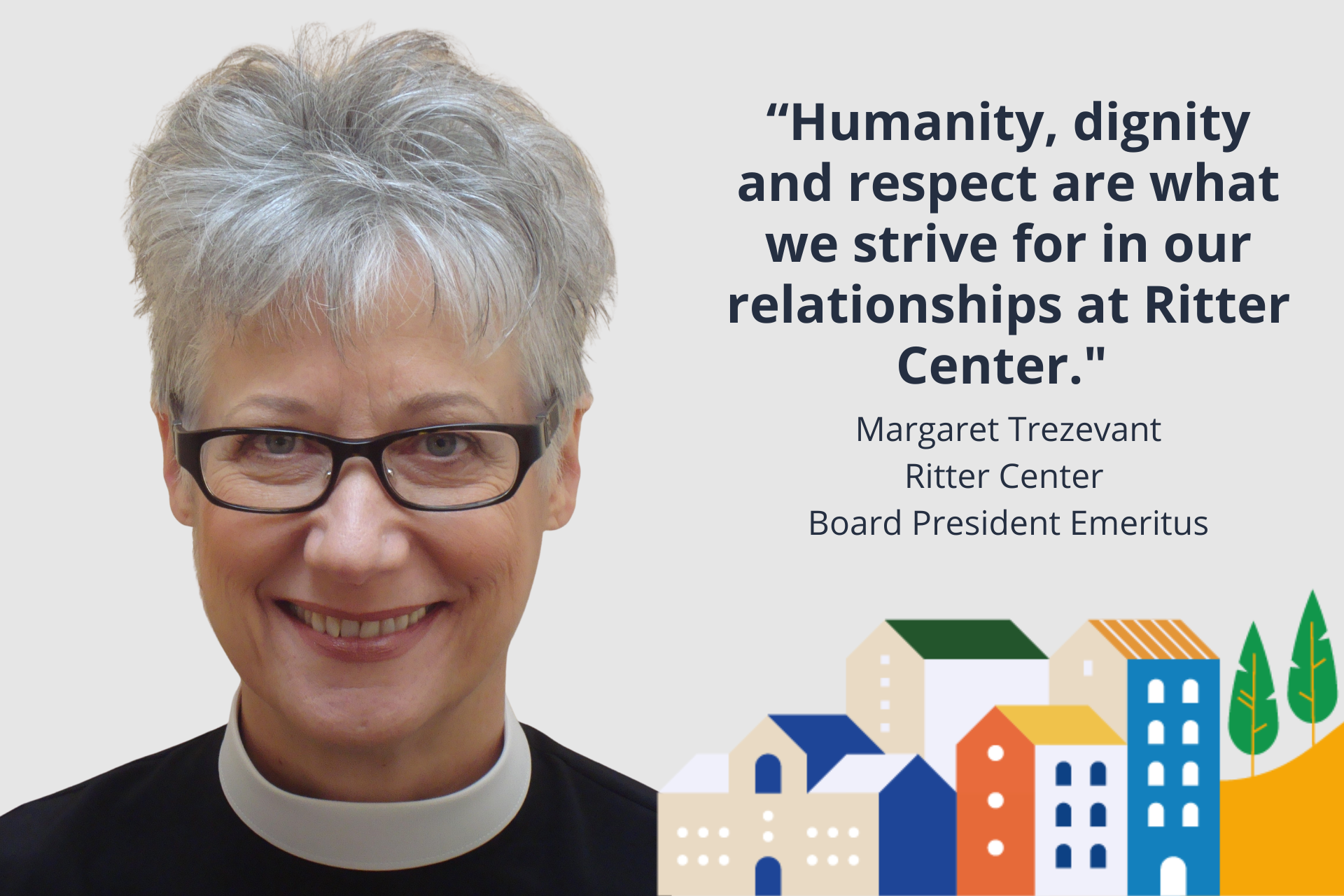 Photo: Margaret Trezavent
Margaret Trezevant – a board member with a very special connection.
Margaret Trezevant, President Emeritus, is a board member with a very special connection to Ritter Center.
"I spent my career working in programs that supported the homeless community, primarily in San Francisco. I helped to set them up and run them, in addition to volunteering for them. When we moved to San Rafael, I wanted to keep my connection to the city and to this very important work. Over time, I became more aware of the homelessness issue in San Rafael and eventually joined the board of Ritter Center. I quickly saw what a well-run program Ritter Center had with best practices and state of the art ideas. Eventually, I became aware that we had outgrown our site, and couldn't possibly do everything we need to do in our current space," said Margaret.

"What started 40 years ago as a mostly volunteer effort to provide food and clothing to the homeless is now a Federally Qualified Health Center. What was once 'Ritter House' became a program providing multidisciplinary care for medical, behavioral health, drug treatment, case management, outreach and housing, that can no longer be contained in the little yellow Victorian home on Ritter Street," she added.
Addressing all the needs a human being might have works especially well when everyone is part of one team collaborating on the same campus together in an integrated fashion for true whole person care.
"The shift to a new campus designed with this in mind will be transformative," said Margaret. "This new space will provide an even greater sense of dignity and respect for Ritter Center clients. There will be no more waiting outside in the rain and wind."

"This mission of expanding access to care is near and dear to both my heart and my husband's heart. We both worked on homelessness issues in our respective careers. It is a joy to be a part of this organization. I wish I could do even more. I think it makes a difference in our community.  By sharing Ritter Center's work, people are becoming more aware of – if not the full scope – much more of our impact. Being able to take care of people in the manner they deserve is critical. Our fellow human beings should not be forced to get all their care in a trailer.  That is not how we should treat people in society," said Margaret.

"Humanity, dignity and respect are what we strive for in our relationships at Ritter Center. We can link people to the care they deserve through building trust and showing respect.  This new building will allow for that. My experience working with people at the shelter made me realize that it could happen to anybody at any time. It is the luck of the draw. We can't just blame those that need our support or ignore them. It could be your neighbor or you," she stated. "Whether you know someone who needs support or not, one thing to remember is that you may not know that you actually do know someone who needs support.  Sometimes it isn't readily apparent or spoken about but the need can still be there. There are so many reasons to support this work.  I am proud to be a part of Ritter Center's board and to work together to make lasting change."
Thank you, Margaret for your dedication and years of support. We are truly grateful for all you do to help our neighbors in need.