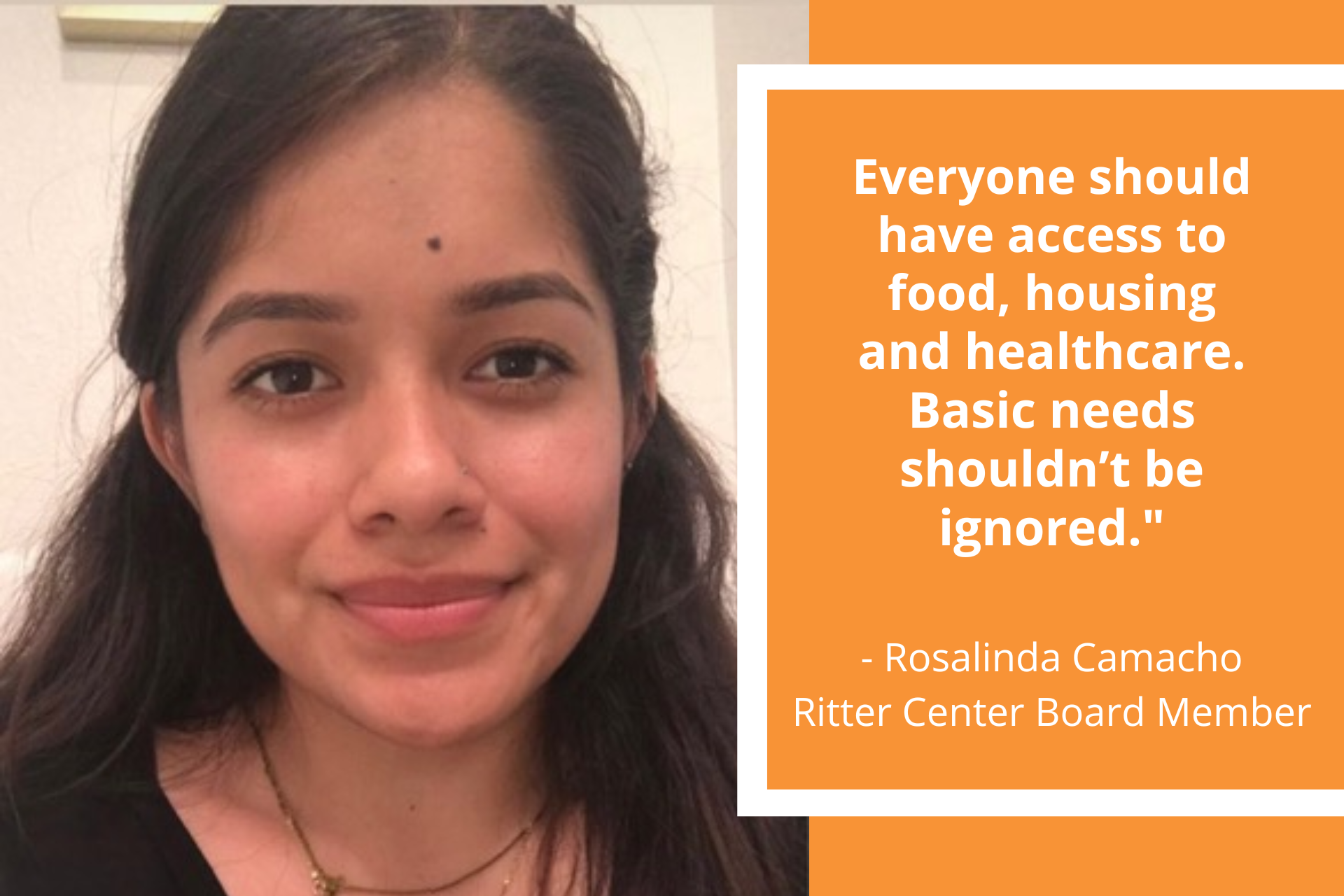 Meet Ritter Center's Board Member, Rosalinda Camacho.
Ritter Center extends a warm welcome to board member Rosalinda Camacho. Rosalinda works as the Health Hub Supervisor at Marin Community Clinic where she oversees the management of two weekly food pantries in San Rafael and in Novato. This nexus of caring for the local community through directly addressing food insecurity is a natural nexus that links Rosalinda to Ritter Center.
"My connection with Marin Community Clinic (MCC) goes back to when I was born. I was actually a patient when I was a newborn and was brought for care at Marin Community Clinic. Now, today, I have been working at MCC for almost two years. It is an amazing feeling to be able to assist the community that I grew up in within this same area as the Canal neighborhood. I am actually serving the same population I grew up in by starting as the volunteer coordinator and now stepping into the role as supervisor. We serve 800 families a week between both locations. I get to work with great volunteers on a weekly basis. It is a true community. Honestly, it doesn't even feel like work. I am always outside interacting with the community," shares Rosalinda.
Rosalinda graduated from San Francisco State University last year with a degree in sociology and a minor in counseling. She'll go back to school this fall to earn her Master's of Social Work degree.
"As a first generation college student, I am proud. I am the child of parents who immigrated 30 years ago. When I was younger, we struggled financially. We were a family that relied upon food banks. I feel fortunate to be able to support people in the ways in which I was supported and also to build on the ways in which I wasn't supported back then. I can create change in both the community and within the system. I am grateful to be able to provide services in language in Spanish when I speak directly to the client. This is particularly important to me because my sister and I were always having to serve as translators to our parents whenever we interacted with teachers and doctors – this impacted our lives in so many ways. In fact, my sister is becoming a nurse and this is part of the reason. Because my parents didn't speak the primary language, they needed so much help in navigating the system," reflected Rosalinda.
Rosalinda's ties to Ritter Center go back a long way.
"My family went to Casa Azul. I recall my mom saying Casa Azul with such fondness for the place. We struggled in the recession. My dad got laid off. Then my mom got laid off. We had no resources to rely upon without an income. We got by with the help of Canal Alliance and Casa Azul. Because my mom didn't drive, we were always walking in downtown San Rafael. I remember how Casa Azul was always full of people and buzzing with activity. We would see Casa Azul and my mom would tell us how Casa Azul provided hot meals during the holidays, and really all of the time with making sure people had enough food to eat," remembered Rosalinda.
Rosalinda joined the board of Ritter Center when she had a conversation with board member David Neagle. David had called MCC to talk about their food pantry operations because his church community in downtown Novato was thinking about beginning a food pantry. Although David already knew a lot about Ritter Center's food pantry, he also wanted to learn how MCC handled their own operations. Rosalinda and David talked for a long time and shared information in general, as well as details about the registration process and overall intake of new clients. David and Rosalinda both shared a strong passion for serving the community. David appreciated Rosalinda's partnerships with the food bank and extrafood.org as well as a desire to make sure that Novato residents are also taken care of along with San Rafael residents. He invited Rosalinda to join the board.
"Sometimes the Novato community gets forgotten. Those families need help, too. At MCC everyone is welcome to the food pantry. We tell people that you can get your box and go! You don't have to give information about your identity," shared Rosalinda.
Another connection to Ritter Center's mission is Rosalinda's memory of one of the most vulnerable times in her life.
"At some point in my youth, I was homeless and didn't have a place to call home. You see, we were living in Terra Linda and our rent went up too much. We couldn't find housing in the Canal in our budget. So we ended up living for a month and a half or two without housing. We were fortunate in that we didn't have to end up on the streets. We were able to disperse into different family houses. My dad and I were at my auntie's house. My mom and my little brother were at my cousin's in the Canal in a different apartment. My sister was at college. Somehow we got through it. We put our stuff in storage. It was tough. It was also my 15th birthday in high school. I remember coming home and my dad told me that we had to pack up and go. I recall feeling disbelief, and asking him where we would go. When he explained that we didn't have another place to go to and that we would split up the the family for now, it started to sink in. We started packing. There was no time to celebrate my birthday. We were not in a good financial situation. I remember writing about it in my college application essay at San Rafael High School.
"Honestly, it was that experience that molded my compassion and empathy. I am still emotional about it. I am still touched by every story I hear. It hits home."
"What I am seeing now during COVID and this unstable economy is completely relatable. The need is here. There are many families sleeping in their cars. I met a new mother with a newborn literally sleeping in her car. Her little tiny baby was sick. She came to the Health Hub, and I was able to connect her to a care navigator. She was able to stay in a hotel, but she had no way of cooking there. We gave her lots of fresh vegetables and fruits for a healthy diet. These struggles of community members are so stressful. They have to choose between buying food or saving money to pay rent. The equity gap is enormous," remarked Rosalina.

"I remember babysitting for families with tremendous wealth not too far from the Canal district. In those schools, every kid had a Macbook and an iPad. Every kid! There is such a vast difference between school districts in the very same county. In Marin, everyone is in their own little bubbles. It is far too easy to not be aware of these differences that are so close by in terms of mileage. The struggling are invisible sometimes. There are so many stories, but we don't know the narrative. Every person has their reasons for how they ended up in hard times. It's not that they didn't want to work. Other social situations and circumstances caused it. It's OK to lend a hand to help those who are struggling back on their feet."
"That's why I am a believer in Housing First. Housing is the basis of everything. Food is health, too! Everyone should have access to food, housing, and healthcare. Basic needs shouldn't be ignored."
A minimum wage job is not enough to survive here. Cashiers working 40 hours a week can't live here. Even professors at local colleges can't live here. The price of everything is just too high!" said Rosalinda.
Welcome to the board, Rosalinda! We look forward to seeing you create even more change in our community with your heart so full of caring and compassion for every person who calls Marin home.