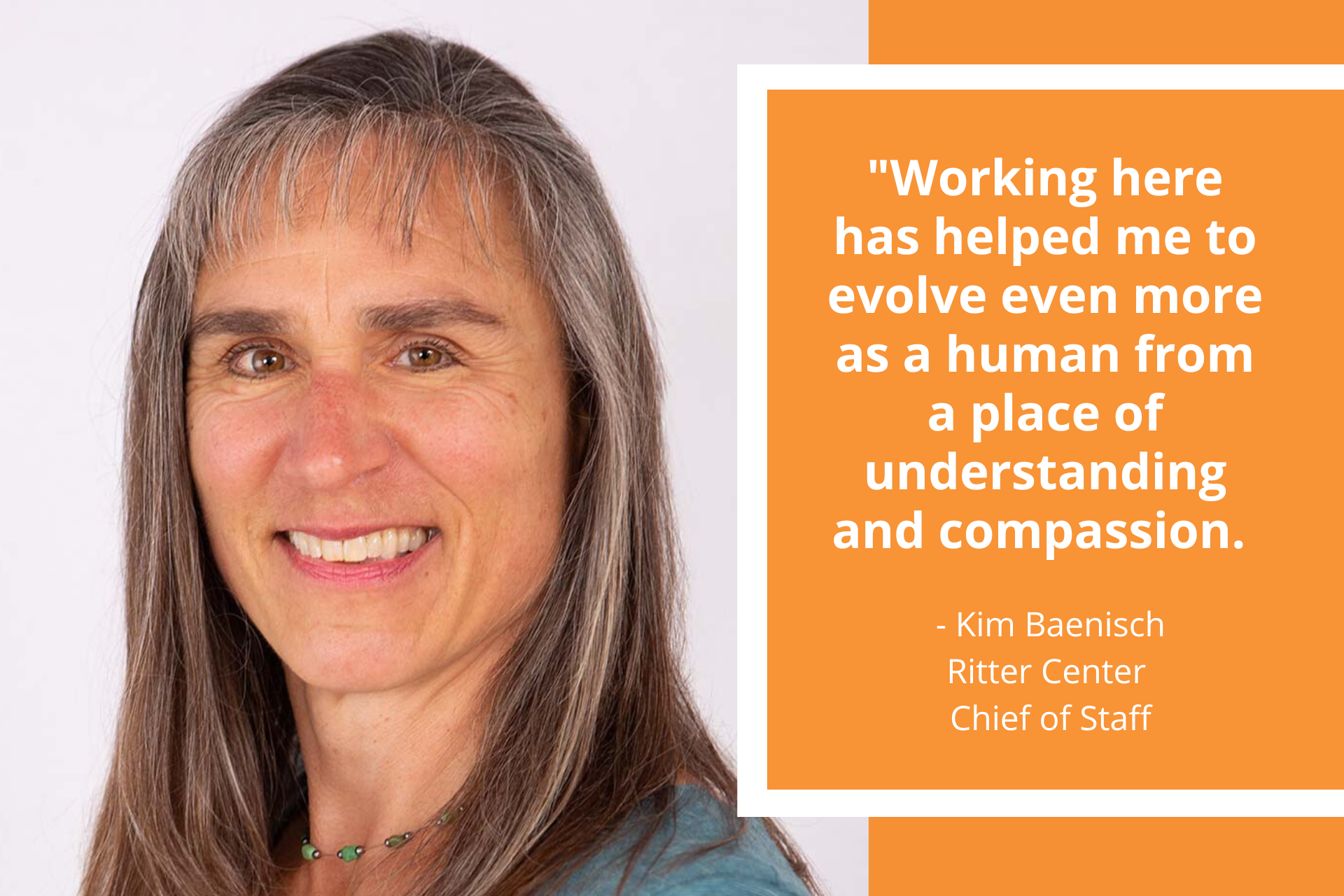 Photo: Kim Baenisch
"What Ritter Center does is so deeply meaningful to me." – Kim Baenisch, Ritter Center Chief of Staff
Kim Baenisch is Chief of Staff at Ritter Center. We recently chatted with Kim about her incredible career path and how she's now channeling decades of hands-on experience with for profits and nonprofits into her latest role as Chief of Staff at Ritter Center.
"I have been an executive director in the nonprofit world for 15 years, and have a keen understanding of how challenging that can be. Resources are scarce, and as a result, you wear so many hats within that role: human resources, fundraising, finances, marketing, communications and more. It was some of the most fantastic training for life. I was introduced to so many elements of running an organization as well as just good human relations," reflected Kim. "That breadth and depth of experience at other nonprofits is what I bring to Ritter Center. The nonprofits I worked at focused on safe transportation, outdoor activity and healthy lifestyles, which honed my understanding of leadership, empowerment, strategic planning and advocacy, all of which are being well utilized at Ritter."
Kim's original degree is in landscape architecture from Cornell University, in Ithaca, NY. She grew up on Long Island but went to school in upstate NY.
"I came to California to work in the landscape architecture field.  I didn't want to work in the major east coast cities of NYC, Philly, or Boston due to their high pressure environments.  My older brother was in the Marines and stationed in San Diego. One cold, gray Thanksgiving, I was on Long Island when he shared a photo of him sailing on the sparkling San Diego Bay on a very sunny day. That's when I realized that California was the place for me. I have always been very outdoor oriented and athletic, and wanted to live somewhere where I could enjoy the outdoors all year long," shared Kim.
Kim was hired by a firm in Sausalito for her first official landscape architecture job.
"It was a big firm and their style wasn't a match for me in terms of culture or work life balance. Eventually, I made my way to a firm in Occidental that did environmental restoration work. This was a much better fit for my interest in preserving natural systems and putting my landscape architecture knowledge to work in a useful way. Then, an economic slump hit the national economy, and the firm had to lay off employees. I took that opportunity to study for and obtain my landscape architecture license but even when that was achieved, the economy was still in a challenging period. I was also struggling personally as I went through a divorce during that same period, and I took time to regroup and focus on myself. During that time, I worked at Whole Foods while regrouping emotionally and spiritually. I started as a staff member with relatively low responsibility in the Nutrition department where the natural herbal and homeopathic remedies resonated with me. Over time, I transitioned into the role of Shift Manager, overseeing the entire store's daily operations. In this role my natural leadership skills emerged, which I didn't even know I had. I also learned a lot about corporate America, and didn't like it!" said Kim.
Working at Whole Foods in Mill Valley as the store's Marketing Coordinator for one year introduced her to the role nonprofits play in supporting social and environmental issues throughout the Bay Area.
"The nonprofits would ask for support from the store for a variety of events, and I was amazed at the incredible concentration of them in Marin County. In recognition of their community-focused work one year, I created window banners listing all of the nonprofits my store was supporting. That year, in the late nineties, our store was named Business of the Year from the Mill Valley Chamber of Commerce because of our tremendous support of the nonprofits," said Kim.
As part of the paid volunteer hours employees received while working at Whole Foods, Kim started to volunteer with the Marin County Bicycle Coalition, due to her love of biking both recreationally and for transportation. After three years of volunteering she accepted a job offer to become their Associate Director; the next year she became their Executive Director for another 9 years.
Her leadership helped create the improved biking and walking facilities now found all over Marin: designated bike lanes, crosswalk pavement marking and traffic light improvements, bike route signage, new bike/ped tunnels, as well as the Safe Routes to Schools program that encourages kids to bike and walk to school daily.
Kim eventually shifted to Executive Director of another Marin nonprofit, Trips for Kids. Their focus is helping underserved youth to experience the natural environment on a bicycle. It also has an Earn a Bike program that teaches youth how to build and repair bikes, as a way to teach technical skills. Over about five years, she worked on their brand refresh and organizational efficiencies; developed community partnerships to expand their youth engagement, hired the 25-year old nonprofit's first Marketing and Development staff to increase community awareness and fundraising efforts, and guided the efforts to create a new National Trips for Kids nonprofit to support its many organically-developed chapters with standardized resources and branding.
A year before the pandemic hit, Kim took a year off to recover from burnout and used the time to focus on a home renovation project at her San Rafael property while also exploring different potential areas for her next chapter in life. Eventually, she received the opportunity to work at Ritter Center in a 6 month contract role managing COVID-specific grants. These grants predominantly provided funding for upgrading Ritter's technology, purchasing and outfitting a medical van, and dispensing COVID vaccines. The grants needed careful oversight to be spent appropriately and within a certain amount of time. This turned into a new full time Director of Contract Performance role and Kim became a permanent employee of Ritter Center, helping to manage the more than $7 million in grants that the organization receives.
Less than one year later, Kim became Ritter's Chief of Staff, still overseeing the organization's grants and additionally supporting operational improvements, leadership development, program management, financial sustainability and strategic planning.
"In my current role I'm able to pull from all my previous Executive Director knowledge to help facilitate planning and implementing of critical projects that are improving Ritter's services and internal operations.

The position couldn't be more perfect for my skill set and personality, as I'm detail- and action-oriented, hyper organized, motivated to make positive change, and enjoy interacting with people, especially when I can help them learn something new about themselves and their relationships with others.

Ritter's mission satisfies my need to be of service to our community and I'm continually learning about the medical and mental health world through my work, which keeps my brain active! What Ritter Center does is so deeply meaningful to me. I was fortunate to have a childhood void of trauma, unlike many of our clients. Working here has helped me to evolve even more as a human from a place of understanding and compassion. Working at Ritter Center makes me feel like my life has tremendous meaning for my neighbors as well as my co-workers," said Kim.