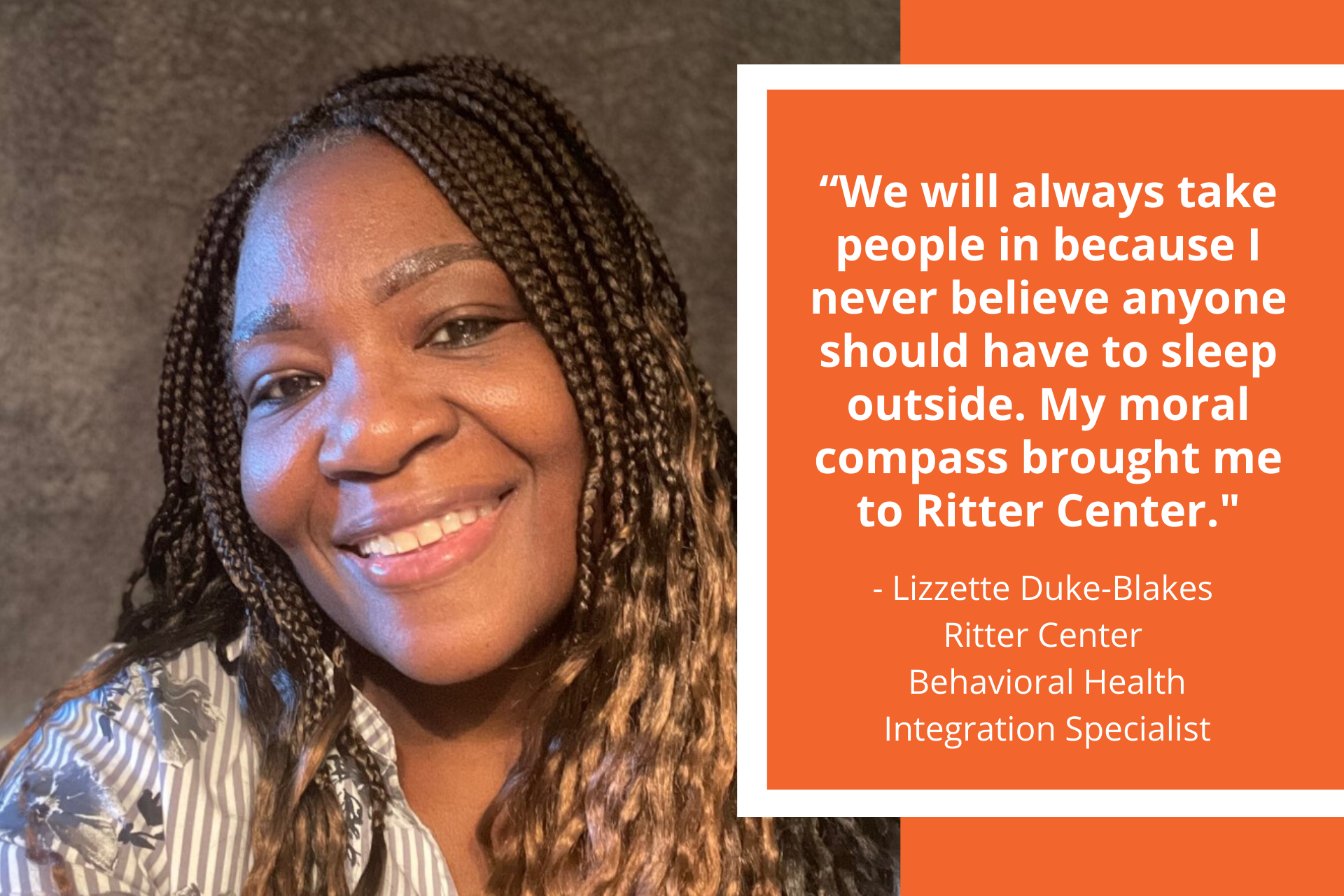 "In my work at Ritter Center, as I work with people, I can say change is possible"- Lizzette Duke-Blakes, Ritter Center Behavioral Health Integration Specialist
"You can't be what you can't see" was Marian Wright Edelman's famous quote. It rings true to this very day.
Lizzette Duke-Blakes is Ritter Center's Behavioral Health Integration Specialist. In this role, she works with both the Whole Person Care and Safety Net teams, putting her Certificate in Mental Health to good use. Lizzette's former experience serving as the program administrator of adolescent programs in San Diego lends an interesting framework as we mark Black History and Women's History Months.
"When teens would come into our program, we wanted to support them, and that would mean dealing with their respective traumas. However, there were significant cultural obstacles to overcome as there is hesitancy by some POC to therapy. I would share that we had therapists available, and sometimes they would respond that they didn't want to talk to anybody like that. I would say that they were talking to me – so what is the difference?

Over time, it became apparent that it was because I looked like them. Therefore, they felt that I was more of a trustworthy person for them to talk. They didn't believe a therapist who didn't look like them would understand their feelings. I started to pose the hypothetical to them that if they and others in this equation were blind, would they talk then? Would you know what color or ethnicity the person speaking possesses based on the answer you are receiving? This sparked an interesting conversation every time about how although we might all go to school for the same thing, the power of lived experience can't be denied," remembered Lizzette.

"Honestly, homelessness, addiction, and mental health struggles are like a tight ball that we have to work to untangle, and as we unravel it, we can start to help support people. Perhaps there is a migrant farmworker parent of a patient, and that person used drugs to get through the day. Or maybe they sold drugs. That trauma was experienced as a whole, whether they had a difficult experience when they crossed the border with their family or were struck hard by their parents being gone during the day. Or maybe they were ostracized, and it continues to affect their psyche? These intense challenges are the same with our clients who are experiencing homelessness," shared Lizzette.
Lizzette also brings a powerful and poignant personal lens to her work.
"My brother-In-law was unhoused for 20 years. He was living in a tent in San Francisco. When I would talk with him and share my thoughts as a substance abuse counselor, he told me he wanted to stop using drugs. When an apartment came available for him in San Francisco, he didn't have the life skills to maintain it. That's the part a lot of people don't understand. He got afraid and ran away. It wasn't that he was ungrateful; it was hard for him to persevere due to the mental health issues he was contending with at that time. It was too much for him to accept all at once. Unfortunately, and tragically, he passed away in December, but he was clean and sober. He had made the profound decision to get sober and had accepted a placement at a shelter in place hotel, but he didn't accept the necessary medical care," recalled Lizzette.
Lizzette also has a story to share with a very different ending that is incredibly impactful. 
"I have been married for years to an amazing man who changed his life. Despite having a traumatizing upbringing, he overcame it. He grew up in the projects, but he has persevered. His story is one of resiliency. It's why I always say, "never judge someone for where they come from and where they have been. It's where you are going. That's what counts." You see, even though he spent over half of his life in prison, I met him when he had been out for only nine months. We met at a Bible study where he told me his past and how he gave his life to god in 2010. He changed. He left the negative behind and now does motivational speaking. He is a shining example that change is possible. In fact, although he was shot by the police and sustained major injuries, and was left to die on the street, Jehovah had a bigger plan for him. He is here today being the father and grandfather he dreamed of being, something that many African American men never get the opportunity to be."

"He's a daily example of the transformational power of change. He's a miracle to me. He's also a blessing to me. In my work at Ritter Center, as I work with people, I can say change is possible. I can share his story without sharing his name. He had all of those barriers, and he made it out. In fact, now it is his job to help others get jobs who are recently released from prison," she shared.
Lizzette was raised in San Diego. With a father in the Navy and a mother in social services, she always saw them giving of themselves. She was raised with that beautiful mindset, and it stuck. She was a peer counselor in high school, a social advocate for youth, and her children will proudly tell you today that their home has lovingly hosted over 25 people over their lives. 
"We will always take people in because I never believe anyone should have to sleep outside. My moral compass brought me to Ritter Center. When I found Ritter Center, a bright light appeared in my life. I see the many services we provide and the tremendous compassion of our staff. Most importantly, the staff is genuine. You can tell if it's fake, and that's not the case here. Through Whole Person Care, we can assess their needs. What's their plan for medical, financial, and housing issues? We also rotate the case managers so that each of us knows each person," shared Lizzette.

"Ritter Center goes to the clients' spaces and we meet them where they are literally and figuratively – whether in a tent, a shelter or housed. We can link them in with services. Recently I talked with a client that was struggling. I wanted to share the information I have about addiction. When we have a conversation, we are careful never to judge. Addiction is a disease. Often, mental health issues and the disease of addiction go hand in hand. If I have an episode of schizophrenia and I use meth, I might like that feeling because it shuts down the voices, and I can feel like me. But it is a recipe for disaster. That's why you have to treat both at the same time," said Lizzette.

"One of the things I like most about Black History Month is that we get a month to educate our children. A lot of people did a lot of great things, and many of these stories are untold. My daughter talks about a new person every day of Black History Month with her children. As a culture, we need to teach our children that we came from kings and queens."

"This month, we should seize this opportunity to educate our children. If you can educate one person about something great, do it! There is a lot of history that isn't told in our history books. Step outside the box to learn the history" urged Lizzette.

"At Ritter Center, we reach out to everyone. Sometimes there is a cultural resistance to the available resources. One example can be around vaccines. That's where our role as educators comes in. I especially look forward to Black History Month because I learn something new every time. The month is important because it gives us the time and the catalyst to do it. The space to take a pause is key," shared Lizzette.
Lizzette has highlighted some Black-owned local businesses/groups that you can get involved in, support and/or share with others:
OTMCoachingGroup.com
https://www.otmcoachinggroup.com/
Akirasbookclub.net
Karibulounge.com
Cupcakinbakeshop.com